REGINA – Mark's is partnering with the Canadian Football League to deliver something new and exciting for Canadian football fans.
Mark's CFL Week – coming to Saskatchewan March 21-26 – will bring together the game's biggest stars, leading coaches, top prospects and most beloved legends in one place for one amazing fan experience.
"We couldn't be more excited to our CFL partnership to the next level by becoming the title sponsor of Mark's CFL take Week. As a Canadian company, we want Canadians to know we love football just as much as they do and what better way to do that, than this," said David Lui, Vice-President of Marketing at Mark's.
"This will be the biggest off-season event in the long and storied history of the league," said Christina Litz, Senior Vice-President of Marketing and Content at the CFL.
"We're combining some of the most important events on our calendar, such as the CFL Combine for draft eligible prospects, with new opportunities for fans, including a week long Fan Fest, a VIP reception unveiling the 2017 Class of the Canadian Football League Hall of Fame, and much, much more."
At a special media event today at the Victoria Square Shopping Centre's Mark's store, details of the Mark's CFL Week line-up was unveiled.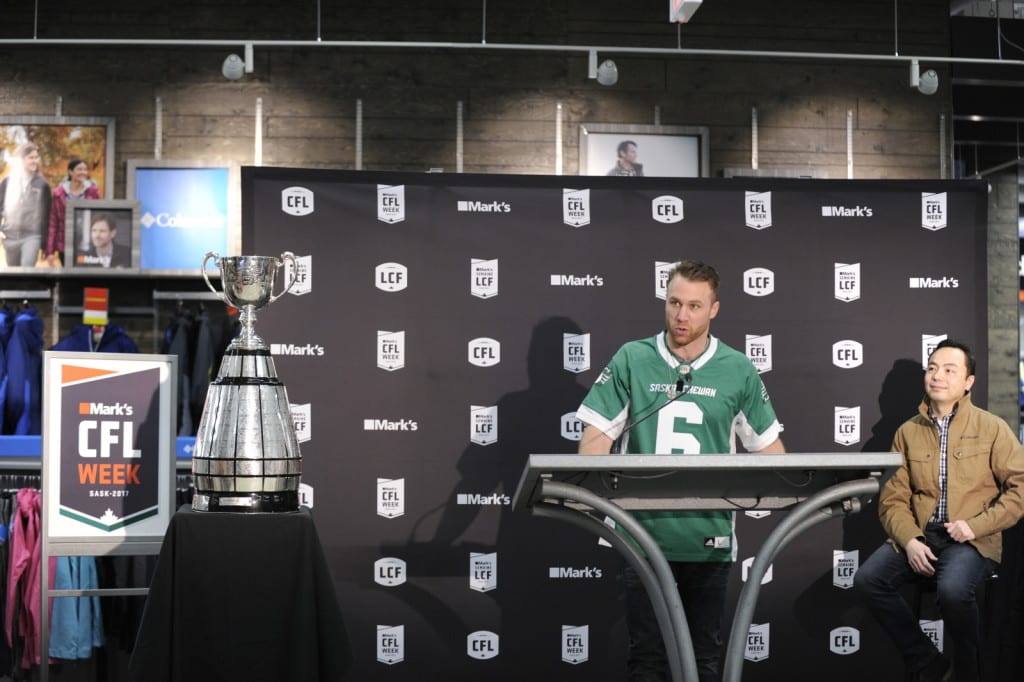 Here are some of the highlights:
Star players are coming: 50 of the CFL's top players will be in town for the week to attend various events, including a massive TSN/RDS/adidas photo and video shoot for the upcoming season. Stars confirmed so far include Bo Levi Mitchell, Jerome Messam, DeVaris Daniels, Alex Singleton, Charleston Hughes, Mike Reilly, Adarius Bowman, Almondo Sewell, John White, JC Sherritt, Naaman Roosevelt, Rob Bagg, Henoc Muamba, Willie Jefferson, Kevin Glenn, Duron Carter, Andrew Harris, Jamaal Westerman, Weston Dressler, Matt Nichols, Taylor Loffler, Zach Collaros, Simoni Lawrence, Luke Tasker, Ted Laurent, Drew Willy, Shawn Lemon, Trevor Harris, Brad Sinopoli, Antoine Pruneau, Darian Durant, SJ Green, Bear Woods, Manny Arceneaux, and Samuel Giguere.
Legends will be honoured: For the first time, the names of the 2017 Class of the Canadian Football League Hall of Fame will be unveiled to fans at a VIP Reception on March 22 at the sparkling new Mosaic Stadium. A Who's Who of CFL greats past and present – including Don Narcisse, George Reed, Gene Makowsky and Damon Allen — will join fans for an intimate look at the Saskatchewan Roughriders' new home and news about one of the most anticipated classes in the Hall's history. Tickets go on sale March 1.
The next generation will be on display: The CFL National Combine, presented by adidas, where the 60 best prospects from Canadian university football and the NCAA strut their stuff for CFL coaches and general managers, takes place March 24 and 25 at Evraz Place. It's preceded by the Western Regional Combine, on March 23, the last chance for local talent to earn an invite to the national event.
CFL brass will tackle the state of the game: The coaches, general managers and team and league executives will meet to chart course for the upcoming season, with the Rules Committee gathering on March 21 and 22, and the Competition Committee meeting March 22.
CFL Coaches will hold court: East and West Division head coaches will talk about their plans for the upcoming season at special media conferences on March 23.
 Young arms will impress: The Canada West Passing Showcase on March 25 and 26 will feature first and second year football athletes from the University of Regina, University of Calgary, University of Manitoba, University of Alberta and University of Saskatchewan in a fun but ferocious touch football showdown.
Fans in Saskatchewan can experience it: The CFL FanFest, at Evraz Place from March 21 to 25, features autograph sessions with players and alumni, your chance to take your photo with the Grey Cup trophy, the opportunity to participate in your own CFL Combine, and prizes and activities delivered by Kal-Tire, BOKS, Athabasca University, Michelin and other members of the CFL family. And the Fan Cave beer garden will be open on weekday afternoons and all day Saturday.
Fans everywhere can be a part of it: Mark's CFL Week Live will be streamed LIVE each day at 4pm CT on Facebook. Host Brodie Lawson will connect fans with their favourite CFL personalities.