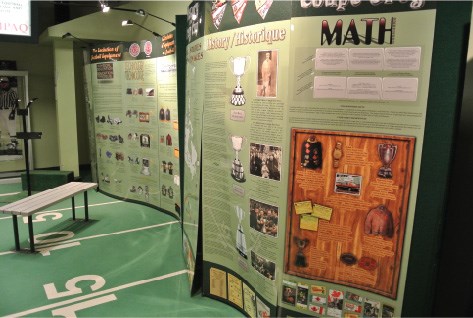 Rugby-Football and Canadian Football today are two different sports, but at one time their paths were intertwined. It started in 1865, when McGill University played English-speaking officers that were stationed there. When 1874 came, McGill developed their own set of rules, which are similar to today's Rugby and Football rules. With the rules made, McGill decided that they wanted to challenge Harvard for two games of Rugby-Football, but there were a couple differences between the styles of game.The first of two games was played on May 14, 1874. The first game was played under the Harvard Rules, which Harvard won 3-0. The next day, McGill rules were used but the oval ball disappeared on the Harvard campus. The round ball was used, ensuring the game ended in a 0-0 draw. Students that attended the game were so enduring to our style, that many thought the McGill game was the better of the two. In the coming months, Harvard made a trip to McGill for the first intercollegiate game in Canada. Much to the dismay of McGill, Harvard won the game.
This virtual exhibit highlights the shared history of the game of football in North America, and how our distinctly Canadian style of play came to be, relative to our neighbours to the south.
The Canadian Football Hall of Fame and Museum is home to 278 players and builders inductees and 87 members (365 total members) who are inducted into the Media Wing in the as of 2015. From Jack Abendschan to Brian Williams, each inductee brought something to our game.
The CFHOF first opened its doors on June 19, 1963 in Hamilton and the charter class consisted of 31 members. The building in which we are located now has been opened since 1972, and is home to player and builder busts, artefacts that belong to the members, and a vast collection of images of the members. In this Virtual Exhibit, the reader can get a better glimpse of the players, builders, and members of the Media Wing, by viewing images of the members, their brief Canadian Football Hall of Fame biography, and of course their bust, which resides in the Hall of Champions. Most notably some of our members have not won the Grey Cup or a championship in their historic career, but being a part of 365 members who are enshrined in the CFHOF is a great prize in itself.
To see this virtual exhibit please click here.